BROKEN HILL
Saturday 25/10/14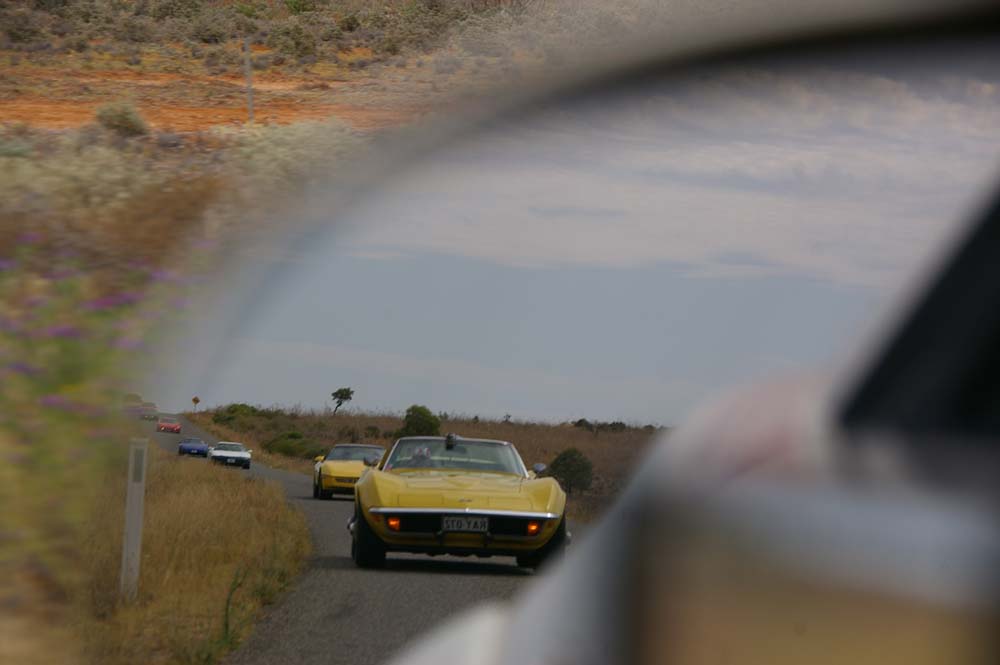 We all met at the Caltex Station Bolivar ready for our 9 day road trip to the outback. 11 months of planning, now was the test. UHF radios were shared around so each had 1. I explained there were various games along the way & then it was time to hit the road. Burra was our 1st stop for coffee & leg stretch. Lunch was taken at Yunta, then on towards Broken Hill. I stopped at the entrance to "Bulloo Creek" for a photo shoot of my car. This was the sheep station where I spent the 1st part of my life. This is also where the OUTBACK part o our adventure started. As I was getting back into the car, I was bitten by a snake that fanged me on the top of my foot. Now was the time to find out if the new fancy phone aerial was going to work in the middle of nowhere. We dialled 000 for an ambulance to come from Broken Hill. I kept travelling towards the ambulance leaving the rest of the party in my haste. Ambulance & I met. They strapped my leg to slow down the venom movement & I was off to hospital on the 1st day of the journey. I spent the afternoon & night in the ICU ward to be tested & monitored. Lyn took the rest of the party to the Royal Exchange Hotel for tea & watched Carole entertain the crowd on the piano. Hospital sucks!
Next morning, feeling OK & not getting anywhere very fast (as the Dr wanted to go to church), I decided to self discharge & ask the nurses to send the paperwork back to Adelaide. I took a taxi back to the motel as I had too much to do to waste time.
"Note: - good bourbon is the doctor's cure"
Sunday 26/10/14
All our mornings started at a civilised 10am, so today was a cruise to Silverton to look at the Mad Max Museum (based on the Mad Max 2 movie). We lunched at the Silverton Hotel, where Peter, the owner, asked us to line up all the Vettes for a photo shoot. The Vettes were quite a hit with all the other tourists as well. After lunch we cruised out to Mundi Mundi plains where the movie was filmed & then down to the reservoir. Tea was at Cafe Alfresco where Karen Stephenson won the wooden sign for correctly answering what the model at Mad Max had hanging on the nipple piercings. Stu won the Mad Max DVD set for remembering Max's dog's name. These were the first of the observation questions.
NOTE TO VETTERS: - if you need to do a quick pee, find a bigger bush than the 2 caught on camera as "there is always one not laughing". Isn't that right Jim? Stu, you tell lies; it's not that big as I could not focus on it.
That night I had another go at hurting myself. Feeling thirsty at 2am, I grabbed a water bottle; only to get the one that had Wash n Wax in it. The snake bite was a better outcome than swigging on Wash n Wax.
Lesson 1:- never put anything in a water bottle except WATER

Monday 27/10/14
Today we had a cruise around the city taking in various sights & some of the more unusual ones:- eg the White Cross that lights up to let the locals know if someone has been killed in a car accident; or the massacre sight. This is the only place where a political murder has taken place on Australian soil. In the afternoon we went out to the Sculptures Park, then to Bells Ice Cream Bar, where they serve all original (not a copy) 50's ice cream & drinks. Tea was at Mario's Palace Hotel, which was the most palatial hotel in Broken Hill in its heyday. It is where, amongst many movies, "Priscilla Queen of the Desert was filmed & has the only legal game of "2 up" played every Friday Night. Here the next prize was given (Captain's choice) to Bob Butler to help him get ready on time in the mornings. (Not really that hard with 10am starts). But you will have to ask Bob what the prize was. Jerry & R4 made a surprise visit to join us for tea & the following morning. Unfortunately the "Miners' Memorial" was closed due to the road collapsing, but I have included some photos to show what it is all about. There are still 2 bodies buried in the mine as it was deemed too dangerous to get them out. So there are 2 coal carts placed as their headstones.
MILDURA
Tuesday 28/10/14.. Broken Hill to Mildura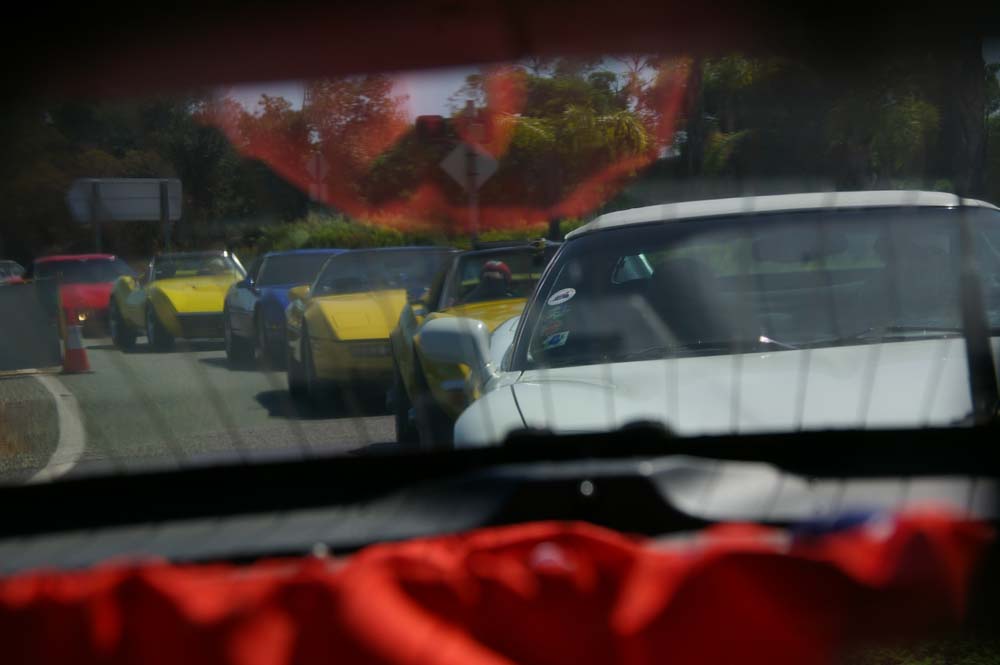 Jim/Cat left early, with the Vette on a trailer after it had a hissy fit & wasn't cooperating. Rest of us checked out & visited the Big Picture Gallery (home to the world's largest acrylic painting on canvas. 12m x 100m). Unfortunately you cannot take any photos inside the gallery, but it is well worth the visit. From here we made tracks for Mildura, stopping at Coomah for lunch, where Graham & Debbie waved as they overtook all the Vettes in their Coaster Bus (mind you it was the only time). When we arrived at Wentworth, Debbie & Graham were there to greet us with Neil who had driven up after finishing work. Next we checked in to Aquarius apartments at Mildura. BBQ was organised for tea with Jim/Cat making it back just in time. Entertainment was provided by Debbie & Graham in the form of a Corn Bag Game (they 1st saw this in USA) they made & brought along. "Good on ya guys" lots of fun. Next observation question was won by Neil who answered "what was the re-occurring theme in the 3 posters?" Answer was "Camels". Sorry Stu, can't help getting mileage out of this situation. Ask Stuart about the Camel story, it is good for a laugh.
Wednesday 29/10/14
Drove to Wentworth where we stopped at the park to view historical statue & a story about a man called "Possum". Then down to the wharf, the junction of the Darling & Murray Rivers, tour of the Wentworth Gaol, & the Perry Sandhills. These are massive sandhills & I had made a sandboard to surf the sand. Well, what a letdown, after driving over rough, dusty, sandy corrugated road. (True Vette People) as they said, "dust washes off". Pull out the board, climbed the mountain sand (Bloody Hot), instant blisters on bare feet, so hot the sand glued to the varnish. Carole said, "Pete let's give it a go & make your dreams come true". So up we went again & took turns pushing each other down the Sandhill. Don't know about Carole, but after falling over I found sand where probably sand shouldn't be. We then went out to the Botanic Gardens where the Sturt Peas were flowering; roses were amazing & saw a ceiling on a gazebo made out of native nuts & seeds. From here we then went to Trentham Winery, sampling, then bought some wine, sat on the lawns & chilled out for a couple of hours taking in the scenery & tranquillity. Tea was at the Tavern across the road from our park.
Thursday 30/10/14
Everyone decided to take up the option for a relaxing cruise on the P.S. Melbourne, the only original steam powered paddle boat to be operating up there. After disembarking, lunch, we drove out to Redcliff to look at "Big Lizzie", a monster steam tractor that took 2 years to steam from Melbourne, where it was built, to Mildura at a top speed of 2 MPH. From here we took the scenic road back to Mildura stopping at the Psyche Pump, an original steam pump to supply water to the town. BBQ no 2 for tea. Again the Johns' brought heir board game along, but this time the game became a challenge, 1 male & 1 female winner, done by knockout rounds. Prizes were bottles of top quality port with unique labels connected to the cruise. Winners were Gus & Debbie. Another top day & night.
SWAN HILL
Friday 31/10/2014 Mildura to Swan Hill

Departed Mildura, driving to Swan Hill. Again, we took the back roads & saw a 6ft brown snake on the road, no photos or Jimmy stops this time (for the uninitiated, Jimmy stop means a pee stop). Anyway, we stopped at this really ordinary looking place, but they had the most amazing Olive Oil combinations which were a real hit with everybody. Booked into our Motel, had tea at their "Burger Bar" (brilliant). Then we all climbed into the Johns' Halloween Bus, complete with Frankenstein (who pulled his head off) (his shoulders that is), skulls, spider webs etc to attend the Light & Sound show at the Pioneer Village. Most of us elected to walk back after the tour as the bus was now a bit too spooky,(Graham was looking even more like Frankenstein).The light & sound show was really good as it showed another aspect & told you about the life of these people in the early days.
Saturday 1/11/2014
Today we drove out to Lake Boga where the Catalina Flying Boat Museum is. The lady in charge gave us a very informative insight, which really made this tour more personal, for me at least. This sight was set up after Darwin & Broome were bombed by the Japanese. Over 1000 men & women worked here repairing & servicing the flying boats. It really does hit home when you think about what these people did & achieved. After this we returned to Swan Hill, lunched at Tellers restaurant, where we indulged in cocktails of seafood & more cocktails. We then went to the Pioneer Village for a Paddle Boat Ride & to look around the village to see how the Aussies lived. Bugger the 1800's I'd rather live in the 20th century.
BBQ3 was the theme for our last night in Swan Hill. Cooked next to the swimming pool, played the put put golf course. Here we announced the winner of the 8 day game of cards, (old Maid Debbie style). Debbie designed & printed up playing cards representing people on the trip. (Brilliant Deb). Kay had the highest single score for a day, prize was a music box playing Hey Jude (Beatles are one of her favourite bands).Catherine won the main prize of the Afghan rug, but the winner was not the highest score, but in fact the lowest score of zero. How funny was this? Everyone was cursing when they pulled out he low scores, or the cards with minus numbers. SO... just remember, you don't always need to be a winner to be a winner!
Gus was awarded a unique bottle of port engraved with "Angus Smith, Whyalla, Adelaide, Broken Hill, Silverton, Wentworth, Mildura, Swan Hill, Adelaide, Whyalla. Furthest travelled Corvette"
PS from all of us, Gus it was a pleasure to have u there.
Stu got a ball scratcher for his story about a holiday with only 1 pair of undies. They were a bit crusty. Does not pay to tell stories after a few drinks. Stu's nickname is now "Captain Itchy". He wants "Captain Kickass" but the vote said "Captain Itchy"
Sunday 2/11/14 Swan Hill to Adelaide
Worst day, departing Swan Hill for home & reality. We still cruised along some back roads; you know the ones that are only 1 car bitumen strip wide. Watching the farmers cropping their crops, trying to stay off the main drag for as long as possible. Bu alas, it all came to an end. Morning tea at Ouyen, lunch at Pinnaroo, goodbyes at Tailem Bend.
Thank you to all of you for an absolutely fantastic "Vettes Party in the Outback" trip.
Pete & Lyn
PS the total trip clocked up 1928 kms