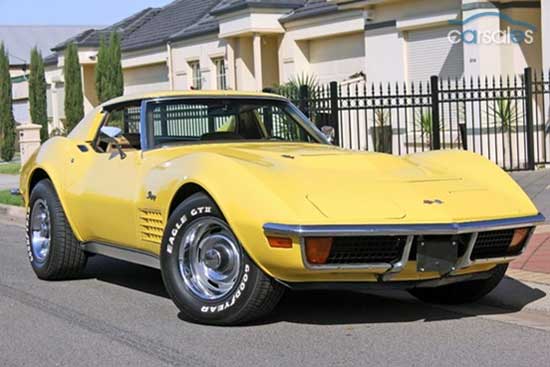 Now calling Pinnaroo home is this 1972 Corvette coupe, in Sunflower Yellow, 454 engine, 4 speed manual, Factory air conditioning, power steering, power brakes, power windows, tilt steering, 454 big block. The car has been recently restored in the USA . The engine, trans, brakes and suspension has all been rebuilt. All the numbers are matching.
In November 2012 it was in the Mecum auto auctions in Anaheim California. From there the car went to GM down under in California, then to Classic and American imports at Royal park where we purchased it in May 2013.
Other than that, we don't know any of the previous history.
Since purchasing the car we have done lots and lots of small stuff including making all the vacuum system work. Adjusting nearly everything that opens and closes. Tuning the engine etc etc.
Some of the air conditioning components are missing so that's my next project.
We are yet to have outings in our Corvette as we have only just finalised the historic registration but we are looking forward to driving it regularly.
I have been looking for a chrome bumpered Corvette for a while and luckily this one turned up in our own state.
We look forward to driving it regularly and meeting club members.

Cheers, Roydn Bailey