Member/Corvette Profile
Name Hugh & Marlene Phillips Membership Number 136
Corvette Details 1972 Convertible with 350
Transmission Type Auto
Special Options Removable Vinyl Hardtop
History of our Corvette
I had always liked the look of C3s, and when I went looking to import a car I wanted it to be from the chrome bumper era, a big block and a four speed coupe. Some friends had imported cars through an agent and thought I should talk to him, as it turned out there was one available that met my criteria and budget. Unfortunately the car was sold to a buyer in England before I even had a chance to even look at it.
After this disappointment I continued to look on the internet for cars and after getting my wife interested in the search we decided to go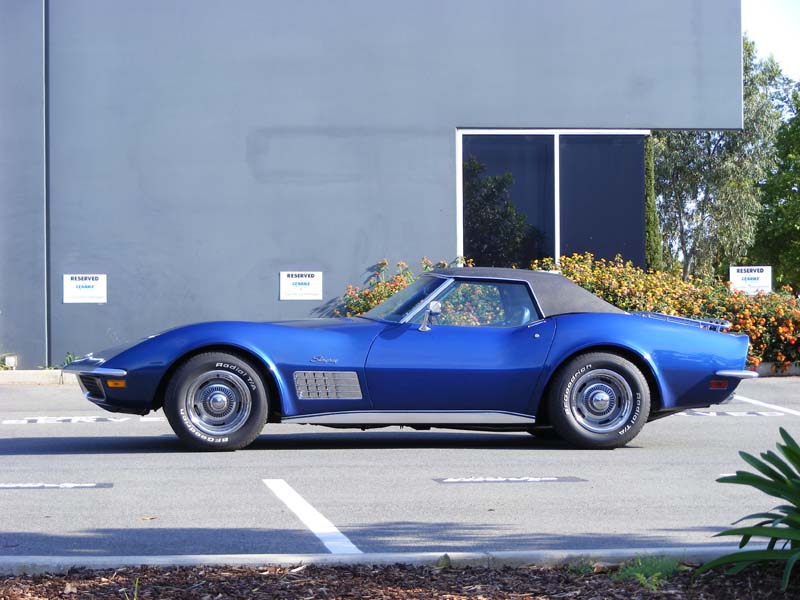 for a convertible, as we liked the idea, we had seen one we particularly liked (a 1972 in Targa Blue). We told the agent of the change of plans, and to now look for a dark blue roadster. Months later a car came up which turned out to be a 72 in Targa Blue, but was a 350 auto.
After seeing photos and knowing the car was code correct, matching numbers, with a reconditioned engine and transmission, from California and also had the removable hard top I quickly decided to engage the agent to import, and get the car through Regency Park at an agreed price. That was in December 2010. The car was in the country by the next May and after several weeks held up in customs and two visits to Regency we took ownership in Late June.
Work undertaken since we have owned it
The car needed new seats, door trims, Rally Wheels & the headers replaced with a manifold among other minor work to get through Regency under Historic Registration. Since then I have done a lot of cleaning and some minor work including fixing the Speedo and tacho and replacing the park brake console.
Favourite Outings
So far we have enjoyed some Beach Runs on Balmy Evenings with the top down as well as some trips through the hills, and we look forward to doing some club outings.